Keto Recipes from Around the World
Sticking to a restricted diet has its challenges and boredom is one of them. Fortunately, we have a world full of cultures offering a range of recipes that lend themselves well to a ketogenic diet. We've gathered 10 classic dishes and converted them into keto recipes from some of the world's most popular regions.
All the recipes meet the basic keto criteria with high-fat content made of healthy fats. Additional ingredients consist of low carb vegetables, and alternatives like almond flour and coconut flour.  We selected these keto diet dinner ideas based on how easy they are to make, aiming for a cook and prep time of 15 minutes and a keto approved fat content.
1 – Keto Lasagna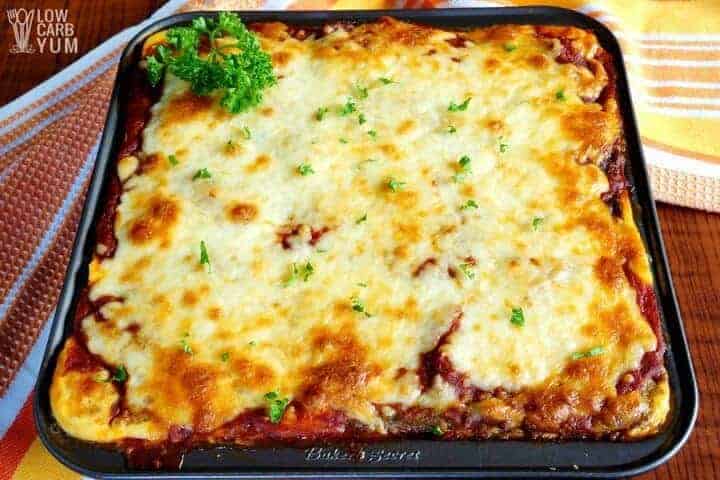 Thin, crisp layers of baked ground lean beef replace traditional pasta layers in regular lasagna. The meat layer recipe is quick and easy to prepare, so it shouldn't add that much more time to the overall recipe. The meat layer works very well in a host of keto recipes like keto pizzas and flatbreads.
Get the recipe from Low Carb Yum.
2 – Easy Thai Chicken Salad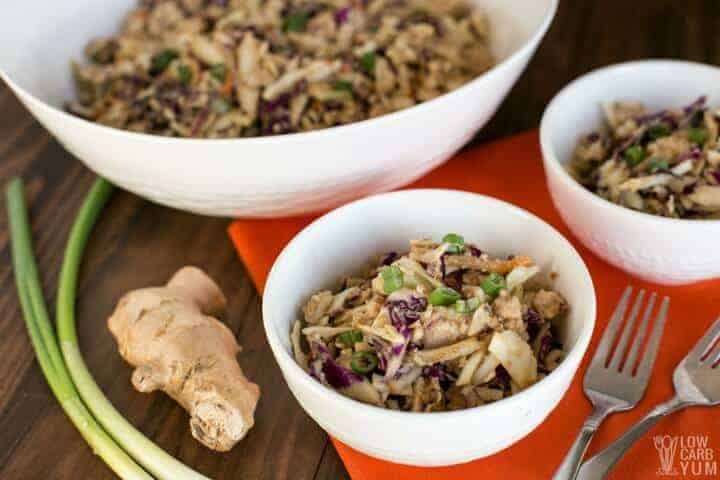 This Thai-inspired salad is a cinch to make with ready to eat coleslaw as a base and either canned or leftover chicken for the protein. We usually bake a whole chicken once a week, so saving a few slices to chop into this salad would make for a super easy meal prep.
Get the recipe at Low Carb Yum
3 – Maple Pork Egg Roll Bowl
So imagine your favorite egg-roll from when you used to eat that way, right? But this time without the wonton wrapper and just the crisp and savory veggies from the inside. This is easy keto done in 20 minutes.
Get the recipe at Cherry and Spice
4- Sauteed Asparagus and Mushrooms with Poached Eggs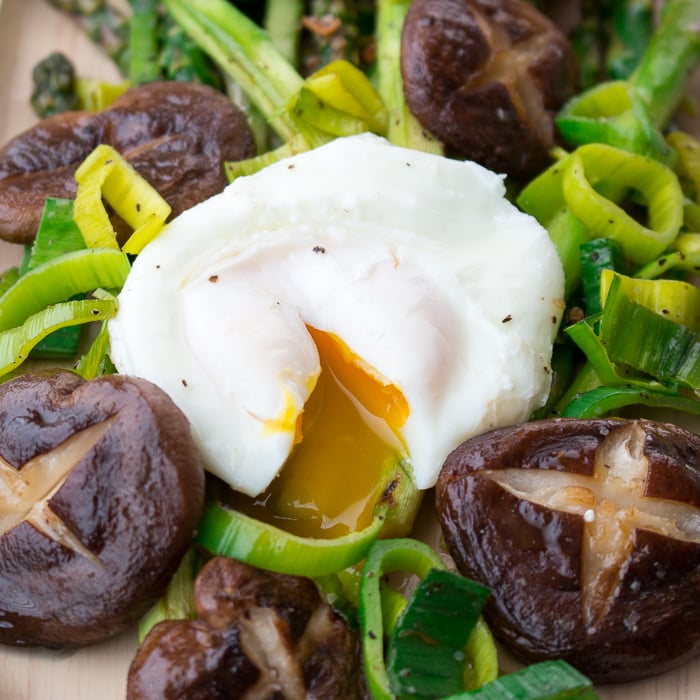 This egg dish reminds of salads I've had in Provence and Nice – light, fresh and earthy. Both a keto friendly meal and LCHF, the highlight of the dish is a perfectly poached egg over a bed of sauteed asparagus and mushrooms.
They're sauteed in olive oil, which always elevates the flavor of produce. I've tried sauteing with coconut oil, but find that it lends the food a slightly sweet aftertaste, so EVO and grapeseed oil are still my go-to cooking oils for keto meals.
Get the recipe at Healthy World Cuisine
5 – Slow Cooker Chicken Tikka Masala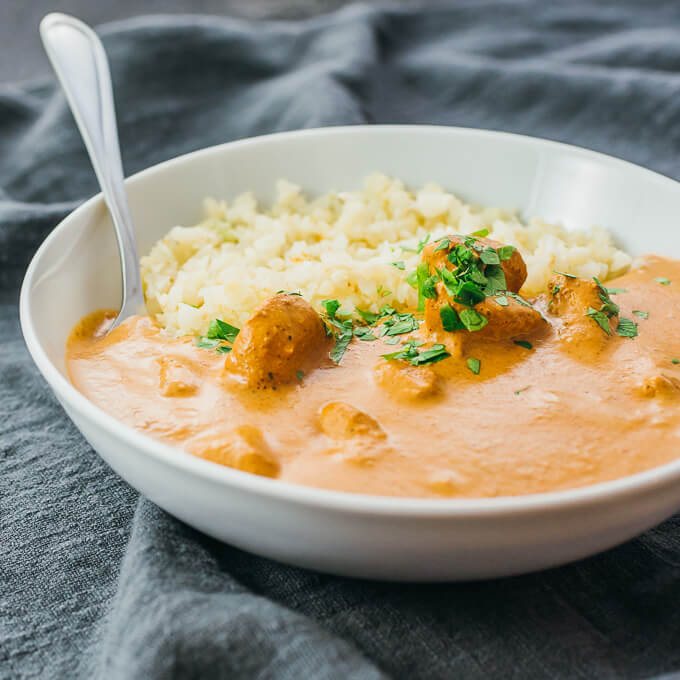 I'm a huge sucker for Indian food and eat it regularly. I've had to bid farewell to naan and rice as the base for my Indian meals, but this dish can be eaten without any of it. If you need something starch-like, you can prepare the recipe with cauliflower rice or a variation of keto bread.
Get the recipe at Savory Tooth
6 – Hunan Beef
Beef and broccoli are a pairing that was destined to come together. And it's just so perfectly keto without the bed of rice, of course.
Get the recipe at Wholesome Yum.
7 – Beef Pho
So in Vietnam, pho is traditionally enjoyed for breakfast, but back in the states, I'll eat it as a midnight snack. The broth is so rich and packed with nutrients that it satiates without the residual midnight guilt.
The recipe calls for shirataki noodles, which is made from a Japanese yam that has no carbs, like none at all. The tradeoff is the noodles are a bit rubbery, but if eaten with a mouthful of greens and succulent sirloin steak, you won't mind it.
Get the recipe at Resolution Eats
8 -Keto Chicken Korma
Another classic dish from India, Chicken Korma also has a creamy, but spicy sauce meant for licking off the plate. The difference is the combination of spices used and the consistency of the sauce.
However, this recipe introduced me to bagged cauliflower rice. What?! No more chipping away at cauliflowers heads for what seems like an eternity in order to the get right consistency and size? Yes, please.
Get the recipe at Beauty and the Foodie.
9 – Cauliflower Jollof Rice
And that store-bought bagged cauliflower will make this recipe the fastest one on the list to prepare. Jollof rice is a tasty rice dish from West Africa. It's a blend of tomatoes and onions, with a nice selection spices of varying heat levels.
Personally, I like my dishes with a serious kick and don't mind that brief moment of "oh-oh, what did I do?", before the heat settles into the rest of the flavors. But I think this dish is a success regards of how hot you go.
Using cauliflower rice as the base makes it a fantastic dish to accompany a beautifully prepared protein to make a full keto meal.
Get the recipe at Divalicious Recipes
We've added our own taste of the Middle East with our Lebanese Keto Meatballs. They're lamb-based which makes for a more delicate flavor, paired with garlic and sumac.
The meatballs are on a bed of arugula and jicama to round out one of our favorite keto recipes. You can make the meatballs with beef or pork, but just make sure you choose a high-fat cut to help with the binding.
Get the recipe right here.
Like the recipes? Pin them!